Our Winemaker - Robert Mueller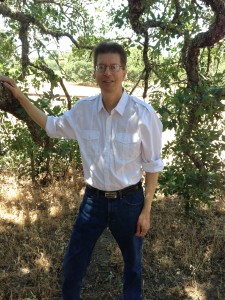 Bob Mueller has always had an interest in chemistry and biology. He received his bachelors degree in biology at the University of California at Santa Cruz. After graduation he was hired by Paul Masson Champagne Cellars in Saratoga as a chemist and he soon realized that he wanted to pursue a career in the wine business.  He returned to UC Davis, where he earned his masters degree in Food Science/Enology. His reputation as a serious and well-trained winemaker landed him the position of senior winemaker at Pirelli-Minetti Winery in Delano, California.  Here Bob directed three winemakers in the crushing of more than 85,000 tons and the production of over 25 million gallons of table wine, brandy, concentrate and sparkling wine annually.
Bob enjoyed his time in Delano, although he missed Sonoma County, where he had been a part of the growing wine business.  Bob was ready to move back to Sonoma County, so he accepted the position of Director of Winemaking for Souverain Winery in Geyserville.  His exceptional knowledge of chemistry and hands-on winemaking led to Chateau Souverain receiving hundreds of awards for their wines. In his capacity as winemaker, his duties included the management of the custom crush facility at Souverain.
Bob left Souverain to establish his own wine consulting business.  He was hired by Vinwood Cellars, Geyserville, to design and establish what quickly became one of the largest custom crush facilities in Napa and Sonoma Counties, strictly devoted to custom crush.
In 1991 Robert Mueller Cellars was established in Healdsburg. The first production under the Mueller brand was a 1991 Mueller Chardonnay, "LB",  from the Russian River Valley (315 cases) , very limited but extremely well received.  Bob made his Pinot Noir debut with the 1994 Mueller Pinot Noir, Russian River Valley, "Emily's Cuvée".  With a production of only 266 cases it was sold out immediately and left his customers waiting impatiently for the release of his next vintage.  The production has gradually increased to approximately 3,000 cases.
Mueller wines are available through ClubMueller, at their Windsor winery tasting room and in a few select restaurants in Sonoma County.