Russian River Valley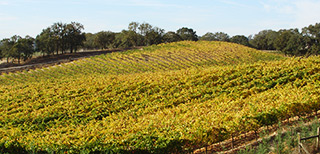 What makes Russian River Valley stand out is its climate. This low-lying flat plain extends south and west of Healdsburg as it winds its way along the Russian River and descends to meet the Pacific at Jenner, then makes it way towards the Golden Gate Bridge, ending about 55 miles North of this landmark. This area thrives from the coastal influences of the Pacific Ocean, which makes it an exceptional place for growing cool-climate grapes like Pinot Noir, Chardonnay and sparkling wine grapes.
Russian River Valley Chardonnays are exceptional, being slightly more lean and refined than those of Alexander Valley, but the fruit is still developed enough to sustain months in oak barrels creating depth and complexity. Pinot Noir brought this area international acclaim. Where most red wines focus on flavor, Pinot Noir is about texture—the alluring sensual, velvety mouth-feel. It is a textural delight that can only be found where morning fog turns to warm afternoons so that fruit maturity is achieved without loss of depth and suppleness.
According to the trade group, Russian River Valley Winegrowers, 42 percent of the grapes harvested in the region are chardonnay, while 29 percent are pinot noir. While the region is predominately associated with Chardonnay and Pinot Noir, hillside vineyard locations have shown success with other varieties such as Syrah and Zinfandel. Within the AVA there are several microclimates that allow for suitable plantings of Sauvignon Blanc, Gewürztraminer, Petite Sirah, Cabernet Franc and Merlot. Zinfandels tend to exhibit more tart red fruit than Zinfandels from the warmer Dry Creek AVA. While Sauvignon Blanc from the region tend to be slightly less "grassy" they still tend to exhibit herbal and citrus lime aroma.
Total acres: 126,600, Vineyard acres: 10,000, Number of wineries: 130, growing 30 different grape varietals.