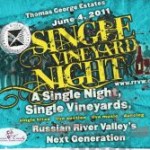 Our winemaker, Bob Mueller, and Marissa Ledbetter from Vino Farms will be tempting you with Mueller wines. Single Vineyard Night on June 4th 2011 from 6:30 (5:30 for VIP Reception) to 10:00 p.m. at Thomas George Estates in Healdsburg, California. Franco Finn will kick off the evening of tasting in Thomas George Estates' 1200 square feet of caves. More than 30 Winemakers and their Grape Grower partners will present their small-lot, single vineyard wines paired with an array of single bites of food from local producers and restaurants.  Click here to purchase tickets.
During the Single Vineyard tasting, RRVW's next generation "Cellar Teams" will promote their Adventure Auction Lots for Group bidding, an economy friendly way to raise funds for RRVW to continue their work to preserve the region's agriculture legacy through marketing and education. Hosted by millennial vintners and growers, these lots are designed for 6 to 10 people to join together and share cost on future adventures in the Russian River Valley.
This year one lot will be co-hosted by Thomas George Estates and Healdsburg Active 20/30 club. Proceeds will go to fund the Coddingtown Mall Gift Cards allowing children from homeless shelters, Boys & Girls Clubs and other children's groups to shop for school clothes.
An impressive line-up of grower vintners partnering to show single vineyard wines include;
Mueller Winery, Vino Farms
Arrowood-Saralee's Vineyard
Balletto Vineyards  
Benovia, Bella Una Vineyard
Dutton Goldfield, Freestone Hill Vineyard
Ferrari-Carano, Fiorella
Gary Farrell, Westside Farms
George Wine Company, Leras Family Vineyard
Graton Ridge Cellars, Bacigalupi Vineyard  
Iron Horse Vineyards, Rued Clone
John Tyler Wines, Bacigalupi Vineyard
Joseph Swan, Trenton View Vineyard
Korbel  
LaFollette, DuNah Vineyard
Lauterbach, Estate
Longboard, Dakine Vineyard 
Martinelli Winery, Lolita Ranch
Matrix Winery, Nunes Vineyard
Merriam, Willowside Vineyard
Merry Edwards, Klopp Ranch
Moshin Vineyards, Bacigalupi  
Nalle Winery, Hopkins Ranch  
Sandole Wines, Oehlman Ranch
Sebastopol Vineyards, Dutton Palms
Thumbprint Cellars, Rushing River Vineyard
William Selyem, Flax Vineyard
Old World Winery
The tasting concludes and the evening shifts from the 1200sq.ft of caves to Thomas George Estates' picnic grounds where Finn will handle the auctioneer duties. A no-host bar featuring wines that normally retail for under $25 (offered by the taste and glass) and "sliders" fresh off the grill for a small price will be available as well as other food items.
At the close of the Auction, Finn will take to the turntables, transforming the grounds into a dance floor for an upbeat close to the party.