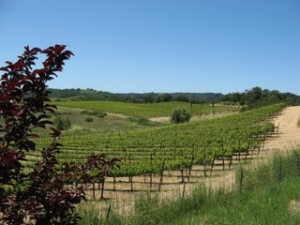 2011 Mueller Pinot Noir, "Hogan's Run", Russian River Valley
Release Date:     June 7, 2013 – (78 cases produced)
Featured wine at the RRVW Passport to Pinot, June 8-9th, 2013
11:00 AM – 4:00 PM
Mueller Winery Tasting Room
118 North Street
Healdsburg  CA  95448
(707) 473-8086
Named for their loyal and beloved black Labrador retriever, Hogan, this 6-acre, hillside, Russian River Valley vineyard has an optimal south-facing orientation in the perfect terroir for producing ultra-premium wine grapes. Susie & Fred Sedlacek migrated North from the San Francisco peninsula in 2010 and found themselves settling close to a favorite winery and winemaker. . . .Mueller.  What more could they dream of than growing the perfect grapes for Robert? 
The first harvest under their care was grown and made into a Mueller 2011 vintage with vineyard designation! Susie & Fred provided Robert with first pick of the vineyard orientation, rows and clones to work his magic.   Robert uses the western-most rows of the vineyard consisting of clone 667 on the highest slope.  Since purchasing the vineyard, Susie & Fred have insisted on high-touch vineyard management practices and have thinned vines to reduce crop yield as they continue to pursue the highest quality, providing only the best fruit to produce this heavenly portion.
Bob's Notes:
Our first vintage of "Hogan's Run", and we couldn't be more pleased! From its full, cherry red color to the deep black cherry and blackberry aromas, this wine is a winner; very rich and full bodied, yet velvety soft on the palate. Top that with spicy, toasted French oak and a lengthy finish, and you have a delicious wine easily matched with almost any dish.